The world's leading research and advisory company – Gartner published its latest Magic Quadrant for Hyperconverged Infrastructure on November 25, 2019, introducing the 2019 market landscape of key service providers in the hyper-convergence arena, which played a guiding role for product selection in the hyper-convergence market.
Huayun Data Group with its Maxta HCI solution, was recognized in the report along with the other 14 global solution providers. Maxta's outstanding functionality, scalability and flexibility were highlighted, as well as its forward-looking technologies and comprehensive customer use cases across various industries, scenarios and regions.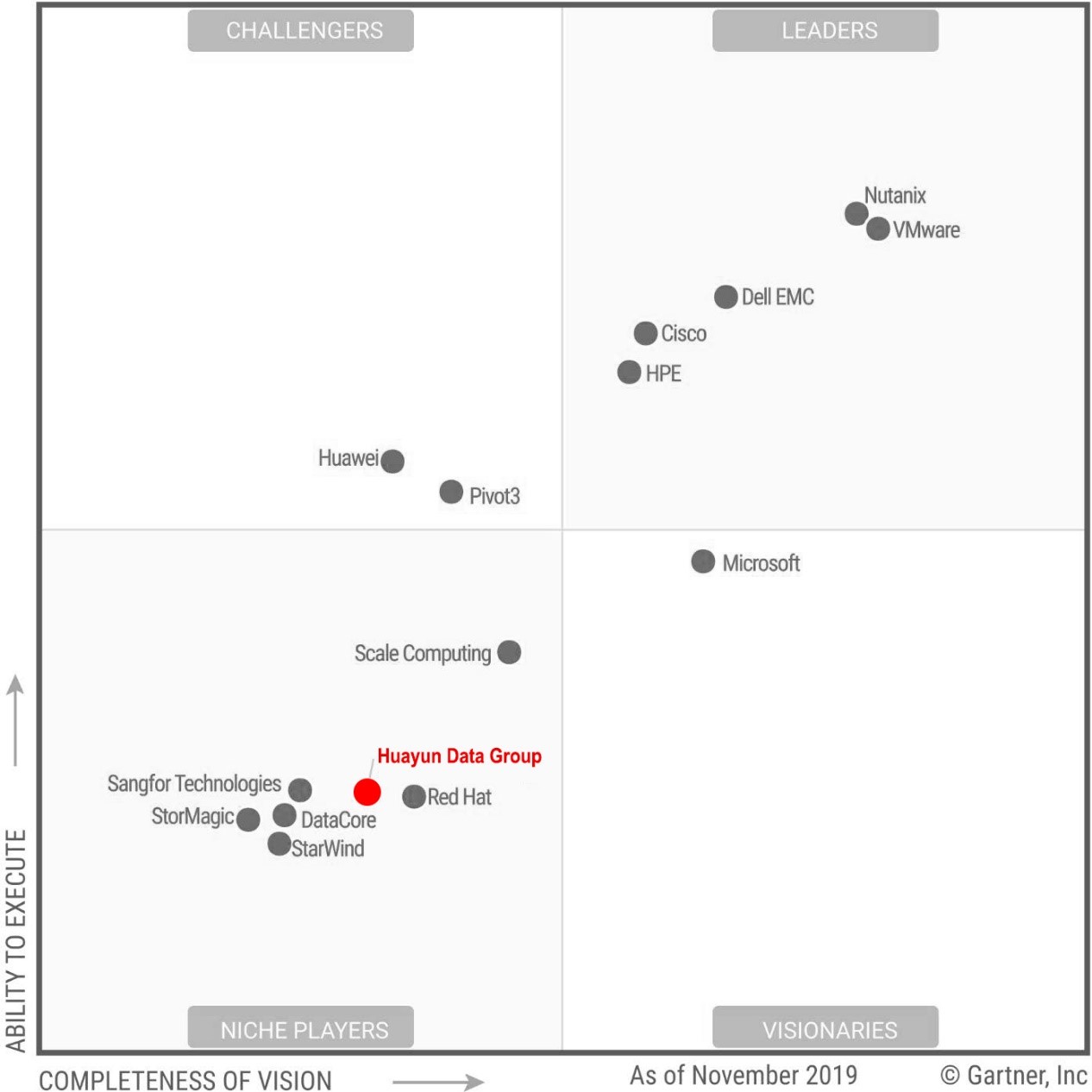 It's worth mentioning that by successfully integrating Maxta HCI into its Cloud Management Platform, Huayun has de facto spawned ArcherOS, as the flagship HCI offering. Both Maxta and ArcherOS would help SMB, Government and Large Enterprise customers to easily speed up their cloud deployments and digitally transform their cloud presence through its simple yet richly innovative applications.
Meanwhile, Huayun Data has been enriching and broadening its cloud ecosystem. Aside from having strategic partnerships with many world renowned IT vendors such as VMware, Redhat, Dell/EMC, Lenovo, Inspur, Citrix, Veeam, etc., the company also ensures its software to undergo through rigorous testing and certification processes with other partner's hardware, software and middleware to guarantee its cloud platform is universally adaptable to the customers.
According to the report, it is expected that 70% of government and enterprise users will adopt hyper-convergence by 2023. Huayun Data Group is dedicated to support its customer at every phase of growth and to bring great ROI with its industry leading and cost-effective technologies and services.
Enquire now to find out more about our hyper-converged solutions.