Maxta's Hyperconvergence software gives IT the ability to run a complete virtualized environment at remote and branch offices with no on-site IT staff.
Remote and branch office IT infrastructure is notoriously time-consuming and expensive for companies to provision and manage. While virtualization simplifies server and application provisioning, each site still requires separate storage and networking solutions and staff with specialized skills. Hyperconverged appliances, though promising, are far too expensive for smaller sites.
Maxta Hyperconvergence Software gives IT the ability to collapse servers, storage and networking onto a single cluster using industry standard hardware. With Maxta, IT can deploy cost-effective infrastructure at remote sites without the need for a storage or networking specialist.
Simplify Remote Office IT Infrastructure
No Storage Admin Needed
Traditional storage for remote sites requires a dedicated local administrator to manage the systems. Most organizations can't afford to do this.
Deploying traditional storage at each remote site is expensive to implement. Worse still, it requires dedicated storage expertise to manage. The alternative – using consumer-grade locally attached storage – solves the cost issue, but exposes companies to a much higher risk of data loss.
Maxta Hyperconvergence Software can be managed remotely in just minutes a week, and you don't need to be a storage expert to use it. And if you need an out-of-the-box, ready-to-go solution that can be plugged in by the local office staff, Maxta offers pre-configured systems through every major server vendor.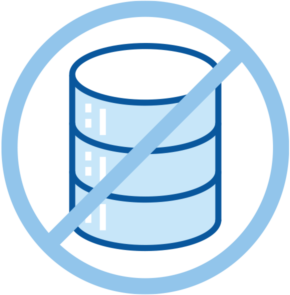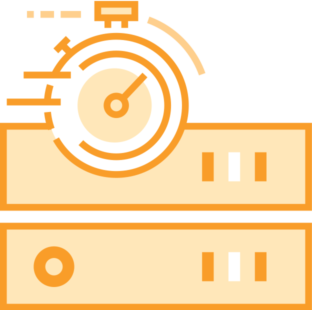 No More Wrestling With Remote Infrastructure
From Zero to VMs in 15 Minutes
With Maxta Hyperconvergence Software, you can get remote and branch office infrastructure up and running quickly, without the headaches traditional storage.
Choose from Maxta software you install on your own servers or buy pre-configured systems with Maxta software ready to go. You don't need IT staff on-site. Just have the local office manager plug it in. From there, you can connect it to your virtualization environment – either VMware vSphere or Red Hat Enterprise Virtualization – and start deploying VMs.
Run an Entire Remote Office on One Cluster
Optimized for Mixed Workloads
One thing you definitely can't afford to do at remote sites – create infrastructure silos for different applications.
Maxta is a VM-centric platform. It optimizes performance and availability on a per-application basis, so you can reduce costs and increase flexibility by running mixed workloads on the same cluster – and improve performance for applications 25 percent. With Maxta, you can run the entire infrastructure for a remote office on a single cluster, regardless of what applications you need to run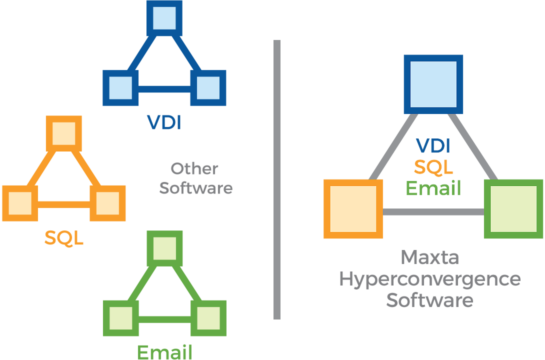 All the Advantages of an Appliance without any of the Downsides
Scale Compute and Storage Independently
Branch office infrastructure doesn't always scale in linear increments. That means you need the flexibility grow compute and storage independently – something hyperconverged appliances can't offer.
On the surface, a turnkey hyperconverged appliance looks like a good way to go for remote offices. It's simple to rack and stack new systems. But appliances can't scale in small increments, or scale compute and storage resources separately – something you often need to do at remote offices. There's also a "refresh tax" – whenever you refresh the hardware, you have to buy the software again.
The alternative, hyperconverged software, means you're never locked into a hardware or hypervisor platform. And software lets you scale compute and storage independently.
Avoid hardware and hypervisor lock-in
Choose Your Hardware and Hypervisor
You can even use your existing hardware – a great option for remote offices.
Maxta works with over seven major server vendors, including Cisco, Dell-EMC, HP Enterprise, Huawei, Lenovo, Quanta, Super Micro, and more. You can choose from pre-configured, pre-validated solutions with Maxta pre-installed, buy your own hardware, or even use existing server hardware. Maxta supports VMware vSphere and Red Hat Enterprise Virtualization platforms and gives you the ability migrate VMs seamlessly between them.

Advantages for Remote & Branch Offices

Simple Administration
Maxta Hyperconvergence Software can be managed remotely in just minutes a week, and you don't need to be a storage expert to use it.

One Cluster Per Site
Because you can run mixed workloads on Maxta, you never need to create infrastructure silos at remote and branch offices. Mix and match different server applications or even VDI on the same cluster with no performance penalty.

Use Your Existing Hardware
Why buy new hardware when you're just getting started with VDI? Use your existing servers to get started.

Never Overprovision Compute or Storage
Scale compute and storage separately by adding disk, memory, or CPU to existing nodes, add new nodes as you need them.

Manage VMs, Not Storage
Improve infrastructure utilization by 40% and improve performance by 25% with VM-level policies.

Hardware & Virtualization Independent
Use your brand of x86 server with the flexibility to run different hardware and multiple hypervisors on a single platform.

No Refresh Tax
Only pay for software once with a perpetual or subscription license – not every time you refresh hardware.

No Upgrade Tax
Add capacity to a node, add a node, or add compute only nodes – without appliance or storage vendor markups.
Eliminate the hidden hyperconvergence refresh and upgrade tax, and avoid hypervisor and hardware lock-in!