List Highlights Hottest Tech Startups Impacting the IT Channel, Technology Industry
Sunnyvale, Calif., July 21, 2014 – Maxta, a developer of the VM-centric storage platform MxSP™ that turns standard servers into a hyper-converged compute and storage solution for virtualized environments, has been recognized as one of 2014's hottest emerging technology vendors by CRN, the top news source for solution providers and the IT channel. The annual Emerging Vendors list identifies up-and-coming technology vendors that have introduced innovative new products, creating opportunities for channel partners in North America to create high-margin, cutting-edge solutions for their customers.
Maxta is redefining IT by delivering a software-defined storage platform that is simple, agile, and cost efficient for virtualized environments. Maxta turns any x86 server into a hyper-converged solution, leveraging server-side flash and disk drives. Maxta MxSP enterprise-class data services and capacity optimizations eliminate the need for SAN and NAS devices.
Maxta is 100% committed to building mutually successful business models with our partners. Sales and technical resources are dedicated and work side-by-side with partners to help formulate sales strategies and to close opportunities. Maxta partners benefit from deal registration protection, discounts, co-marketing support and other programs designed to create new opportunities and increase partner profitability. Additionally, with Maxta's software-defined storage solutions, channel partners maintain the ability to provide hyper-converged solutions on the server and hypervisor vendor of their choice.
"Solution providers are always on the hunt for the next big technology trend so that they can bring new solutions to their customers before they even know they need them. These vendors are on the forefront of IT innovation and are offering products and services that channel partners can use to stay ahead of the competition," said Robert Faletra, CEO of The Channel Company, publisher of CRN. "We congratulate 2014's Emerging Vendors for creating the next wave of technology that will drive the IT industry forward and for opening the door to new, unique solutions from the IT channel."
"We are very pleased to have been recognized as one of this year's top technology vendors by such a well-regarded industry publication as CRN," said Yoram Novick, Maxta founder, president and CEO. "Maxta is committed to building a mutually beneficial relationship with our partners to create sales opportunities and increase profitability. With the transformation to virtual data centers, customers are looking for ways to simplify and reduce the cost of storage while supporting the scale and performance of their applications. MxSP software-defined storage platform is well positioned to meet all these customer needs."
Companies included in CRN's 2014 Emerging Vendors list were founded in 2008 or later and are actively working with channel partners in North America. The list, along with information about each vendor, will be published in CRN's August 2014 issue and will also be available online at www.crn.com.
Follow Maxta on Twitter, LinkedIn and Facebook
About Maxta
Maxta is redefining enterprise storage by delivering a storage platform that is simple, agile and cost efficient for virtualized environments as well as supporting a wide spectrum of enterprise-class data services and capacity optimizations. For more information visit http://maxta.wpengine.com.
About The Channel Company
The Channel Company is the channel community's trusted authority for growth and innovation, with established brands including CRN, XChange Events, IPED, and SharedVue. For more than three decades, we have leveraged our proven and leading-edge platforms to deliver prescriptive sales and marketing solutions for the technology channel. The Channel Company provides Communication, Recruitment, Engagement, Enablement, Demand Generation and Intelligence services to drive technology partnerships. Learn more at www.thechannelcompany.com.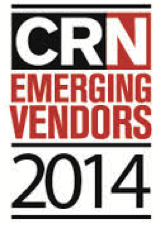 ###
CONTACT AGENCY:
Judy Smith
JPR Communications
818-798-1475
judys@jprcom.com