Business Continuity (BC) and Disaster Recovery (DR) planning is a fundamental part of IT deployment and management. Businesses and services must ensure that they can operate even after disasters such as natural calamities, software corruption, crucial server failure, or human error. Failing to plan for disaster recovery could result in data loss, server downtime, financial losses, and regulatory compliance issues for companies.
What happens when IT managers are posed the question "Is your Business Continuity / Disaster Recovery plan complete, fully tested, and affordable"?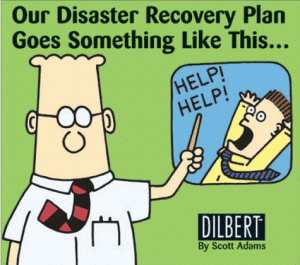 For the vast majority of companies, the answer is always a simple NO. That's because BC/DR plans are never complete (they're constantly changing), it is too hard to fully test and deploy, and is never affordable. With today's reliance on IT and the applications it serves, IT managers face the challenge of building and managing infrastructure with the following attributes in a cost effective manner:
Highly available architecture with no single point of failure
Ability to enable snapshots and clones of VMs for rapid backup and recovery
Ability to replicate systems to secondary sites for site resiliency
Ability to test application failovers / failback to ensure application uptime
It is complex and expensive to deploy an efficient BC/DR configuration in a traditional architecture. In addition to servers running the applications, the solution requires a SAN/NAS storage array along with storage networking switches, SAN/NAS replication software and site recovery manger software to configure and test failover and failback capabilities.
Welcome to the next generation, software defined data centers. Having a comprehensive BC/DR plan is made extremely simple with Maxta and Zerto. The "Disaster Recovery in a Box" solution dramatically simplifies the ability to deploy, test and manage a cost effective BC/DR solution. The solution comprises of:
Standard x86 servers with local disks
Maxta storage software
Zerto replication and automation software
VMware vSphere & vCenter
The solution dramatically simplifies the infrastructure requirements, while bringing a VM and application centric approach to management and business continuity. This approach simplifies the process of testing the business continuity and disaster recovery plan. The entire solution, racking and stacking the hardware, installing and configuring the software (hypervisor, Maxta, Zerto), can be completed within a couple of hours. The solution supports multiple deployment scenarios:
Replicate from:
MxSP at primary site to MxSP at recovery site
MxSP at primary site to any other storage platform at the recovery site
Any storage platform at the primary site to MxSP at recovery site
The "Disaster Recovery in a Box", has simplified and made BC/DR deployment affordable to organization of every size. The software-only solution is purpose built for virtual environments and delivers VM-centric enterprise-class replication and data services, thus providing enhanced business continuity and disaster recovery capabilities.