Unveils Support for Kilo at Vancouver OpenStack Summit
 Sunnyvale, Calif. – May 18, 2015 – Maxta®, a leading provider of hyper-converged solutions, today announced MxInsight™ and MxCloudConnect™, simplifying hyper-converged IT management across virtualization technologies. MxInsight includes historical reporting, enhanced policy management, and comprehensive storage quality of service (QoS) management for all Maxta MxSP™ and MaxDeploy™ solutions. MxCloudConnect, a remote call home capability, delivers proactive maintenance and support notifications. These capabilities, along with Maxta's enterprise-class data services, close the storage management gap eliminating the need for complex and costly storage arrays.
The main capabilities of MxInsight are:
Granular and enhanced insight into performance and capacity utilization of Maxta resources in real time as well as historical reporting. This capability provides easy and simple performance and capacity planning for data centers leveraging Maxta.
VM-level policies and storage QoS enabling customers to set policies such as replication factors, data rebuild priority, and compute/storage affinity at the VM-level, delivering simple and efficient IT management.
Localization: Maxta now provides full support for all major languages, demonstrating our commitment to an expanding global community of users and installations worldwide.
MxCloudConnect, a cloud based call-home capability, enables proactive maintenance further automating and simplifying IT and storage management.
Coinciding with the Vancouver, B.C. OpenStack Summit and its commitment to providing immediate access to the most cutting-edge virtual data center innovations, Maxta announced support for Kilo, the latest OpenStack release.  Maxta has developed both Nova and Cinder drivers for OpenStack with full integration and leverage of new Kilo features.  Maxta OpenStack Kilo support provides greater scalability and a full suite of enterprise-class data and high availability services. Maxta will be showing its solutions at its Booth #T11.
Quotes
"The economics of hyper-convergence are extremely compelling. With MxInsight and MxCloudConnect, our customers have the insight, visibility, policy management, and data services to further reduce the complexity and cost of their virtual data centers," said Yoram Novick, Founder, President and CEO, Maxta. "Our zero day support of Kilo is an additional testament to our commitment to maximize the promise of hyper-convergence by providing customers hyper-convergence support to the most cutting edge infrastructure technologies."
Yoram Novick, Founder, President and CEO, Maxta
"Maxta's ability to simplify performance and capacity planning within virtualized storage environments is an elegant approach to an ever-increasing problem. And its call-home feature further simplifies management for overworked IT administrators."
Tim Stammers, Senior Analyst, 451 Research
"Maxta is already interoperable with Mirantis OpenStack thanks to our Mirantis Unlocked program. Together, we provide our joint customers with rock-solid data resiliency, availability and protection — all with the flexibility and agility of an OpenStack cloud. We are working with Maxta to deepen their integration through a Fuel plug-in, and to support their new Kilo drivers in the upcoming Kilo-based release of Mirantis OpenStack."
Boris Renski, Co-Founder and Chief Marketing Officer, Mirantis
Resources
About Maxta
Maxta maximizes the promise of hyper-convergence. MaxDeploy Appliances and MxSP software solutions provide companies the choice to hyper-converge on any x86 server, the ability to run on any compute abstraction layer, and the flexibility to support any combination of storage devices eliminating the need for complex and expensive storage arrays.  The simplicity of Maxta's VM-centric solutions reduces IT management and lowers cost, all while delivering hyper-scale, enterprise-level data services and capacity optimization. With Maxta, service providers and enterprise customers can build private and public clouds based on any cloud orchestration software. Think outside the storage box. For more information visit http://maxta.wpengine.com.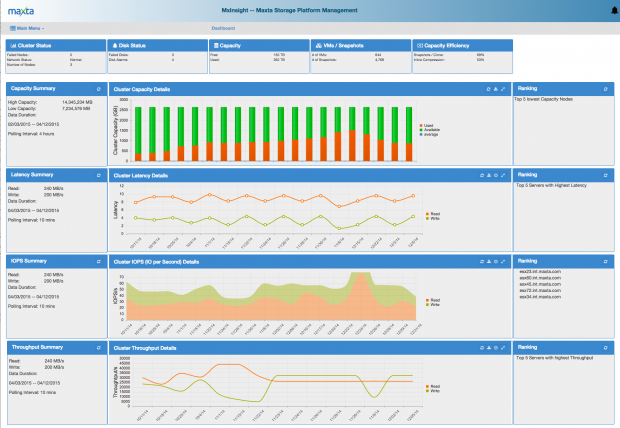 ###
CONTACT AGENCY:
Judy Smith
JPR Communications
818-798-1475
judys@jprcom.com